Magnificent Holiday Home in Parcent with Swimming Pool
Magnificent Holiday Home in Parcent with Swimming Pool
Holiday home
1-6
2
1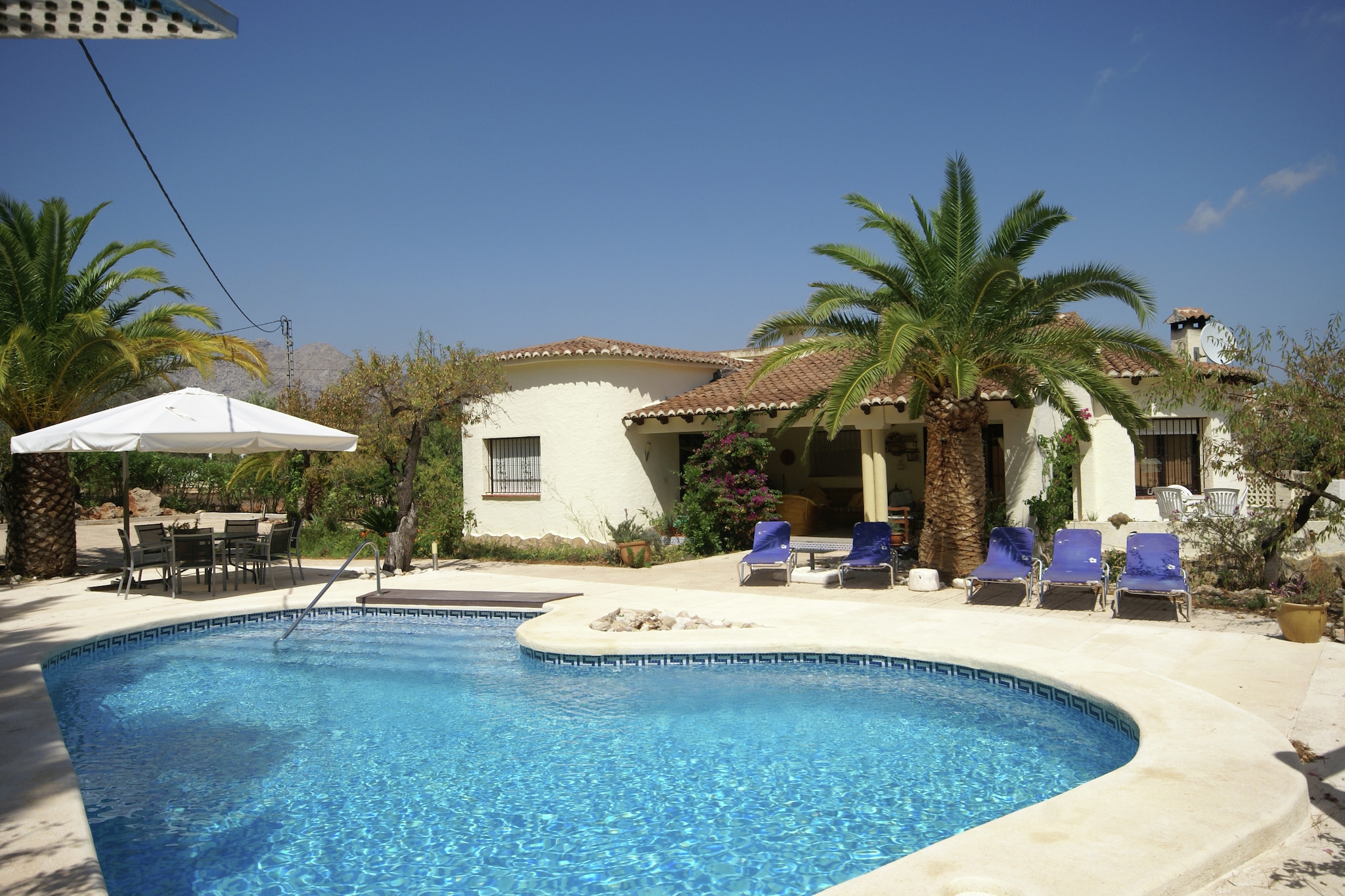 Description holiday home
This magnificent holiday home is located in Parcent and has 3 bedrooms to sleep, 6 guests. Located on the Spanish Coast this home offers a private swimming pool and a furnished garden to enjoy the maximum.



Within a distance of 2 km, you can find the town centre, shops, restaurants, and pubs. Explore water sports activities and the beach only a short drive away.



A bright living room with a fireplace, woodstove, and entertainment devices is perfect to have a gala time indoors. A terrace or the garden is available for you to spend some outdoor admiring the surroundings. Heating and air conditioning are in place to keep you comfortable inside. You can bring 2 pets to stay on the property for a small fee. A washing machine is in place for your convenience. This child-friendly home offers a cot and high chair on request.



The nearest airport lies 85 km from the home.



The check-in time is from 5-8 PM and check-out between 10 AM- 12 PM.
Layout holiday home
Ground floor: (open kitchen(cooker(induction), coffee machine, oven, microwave, dishwasher, fridge-freezer), Living/diningroom(TV(Dutch television channels, International television channels), fireplace, stove(wood), DVD player, CD player), bedroom(double bed), bedroom(2x single bed), Bedroom with bathroom(double bed, bathtub with shower, toilet, air conditioning), bathroom(shower), toilet, washing machine)

shower(outside), heating(gas), terrace, garden, garden furniture, swimming pool(private, 9 x 5 m.)
Activities near holiday home
Below you will find some ideas for your holiday. However in case you need more specific information, please do not hesitate to check with our local contacts.

Have a stroll through the magnificent nature around us and enjoy your own seasonal fruits like figs, oranges, lemons, olives, almonds, nisperus, pomme granate and blackberries. Ofcourse, enjoy the private pool and its close surroundings.

La Vall de Laguar is formed by three villages: Campell, Fleix, Benimaurell and Fontilles Sanatorium. None of them has over 300 inhabitants, and this shows that it is a quiet and peaceful place.
La Vall de Laguar offers impressive routes for excursionists. Its walking routes are famous for their gorgeousness, such as the impressive Barranc de l´Infern. Along ancient pathways we will reach hidden spots with crystal-clear springs, caves and cliffs decorated with cave paintings of great historical value, protected by the UNESCO.
The well-known PRV 147 is a walking route in the municipal district of La Vall de Laguar. It is a closed circuit of 14.5 kilometres and has 6, 500 stone steps of Moorish origin. The views and flora of the walkway are really spectacular.

Visit our the next doors monestry Fontilles.
www.youtube.com/watch?v=w6rWWujBWQU
Our grounds are located along site the walls of the monestary. At many places you can follow a trail and wander into the domain of Fontilles World Heritage.

Lounge on the mondaine beach of Arenal Javea
http://www.acquajavea.com/mas-locales/

Lunch as a Spanisch family on the beach at hotel Los Angelos Denia
http://www.hotellosangelesdenia.com/english/Home.html

Diner on the top of Vall de laguar
Restaurant Venta del Collao

Also, you can visit local markets in villages of Jalon, Orba, Pego and Denia. Very famous is the touristic market down in the riverbed in Jalon. Every Saturdaymorning you can stroll here and find bracelets as many as you like, leather belts, pouches and clutches, colorfull authentic Spanish dresses with dots for the little girls, all kind of hats, second hand furniture and much much more.

It's worthwhile to check with local tourist information or our local contacts on village "Festeros". Every village has its own patronsaint and to honor the saint, the village celabrates this quite well. Every day, some times for a week, you can enjoy activities to celebrate.

Also sportsmen and women can continue their activities during the holiday: rock climbing in Alcalali or Jalonvalley, cycling through the mountains like professional cycling teams do as well. New is the mountainbike route passing along our own valley where the house is located.

From € 571 per week
Host
Belvilla
Host since 21-07-2021
| | |
| --- | --- |
| Number of toilets: | 1 |
| Number of bedrooms: | 2 |
| Number of bathrooms: | 1 |
| Dish washer: | |
| Fire place: | |
Rent a car during your holiday